We all know how hard it is to find good tools that last long. We are always on the lookout for ones that don't take up too much room and can be easily put in our tactical backpack. The tools have to be lightweight and easy to carry. This is a huge problem when it comes to outdoor activities. This inspired us to make the entire new tool combined into a sturdy, durable, and lightweight multipurpose shovel.
This shovel features all the things you need when you are outdoor. Designed to last long and to strike the right balance between durability and strength.
Features:
Multi-function Survival Shovel Tools - Included multi-function shovel board (for digging, shoveling and chopping, hexagonal wrench (m8 & m10)  ), compass, screwdriver(+/-), saw, bottle opener, tactical knife, magnesium fire starter & whistle, window breaking hammer.
Suitable for Various Needs - Suitable for outdoor / vehicle / camping / tactical / camping / adventure / mountaineering / defense / riding / fishing / emergency tools / self-defense, etc.
Hard and Durable Material - High quality carbon steel (shovel head, knife) and aviation grade aluminum alloy (shovel handle), thickened material, surface antiskid design to ensure the comfort and safety of the user.
Convenient to Carry - Easily decompose spade parts and fold them into their compact portable packages.can be placed in a backpack or hung on the waist belt. Easy to adjust to 3 different length: 31.5inch, 25.6inch, 19.7inch.
Unique Design - You can adjust the shovel angle with the special screw locking device, which can make it simple to alternate functions and positions. Spade can be used for 40°, 90° or 180° angle as a hook, hoe or shovel. The bucket lock can also be removed and the handle can be used alone as a self - defense stick, spear, or outdoor crutch.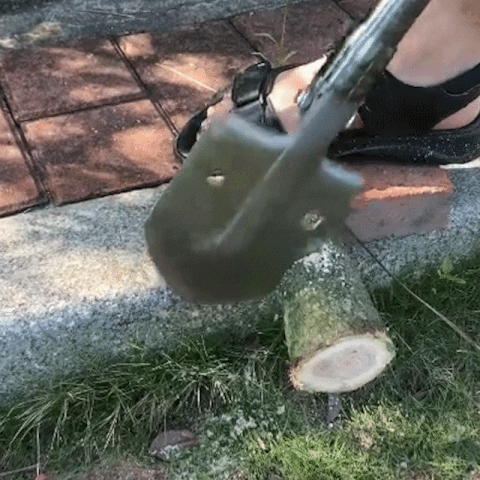 WHAT CAN THIS SHOVEL DO?
Let us give you a few examples of a survival shovel that will help you during your camping, hiking, or military training. 
Shoveling
Digging
Bracing
A cutting (logs, rope)
Prying
Hammering
Chipping

Loud emergency whistling
Chopping
Camera tripod
Wire clamping
Axing
Hoeing (gardening)
Hooking
Peeling
Chiseling
Sawing
Shearing
Entrenching
Bottle/can opening